Vuze Web™ for Google Chrome™
Discover and download torrents directly in your web browser with the Vuze Web™ for Google Chrome™ extension. With the power of Vuze you can search, download and play torrents straight from the Internet and experience content without having to leave your browser.
Vuze Web Compatibility
• Windows only
• Google Chrome browser
Vuze Web Features
• Simple torrent search and discovery
• Download and management of torrents from your browser
• Monitor and control file download/upload speeds
• Clean, fluid and streamlined interface for total content enjoyment
• Automatic notification system provides visual alerts
• Complete ad-free experience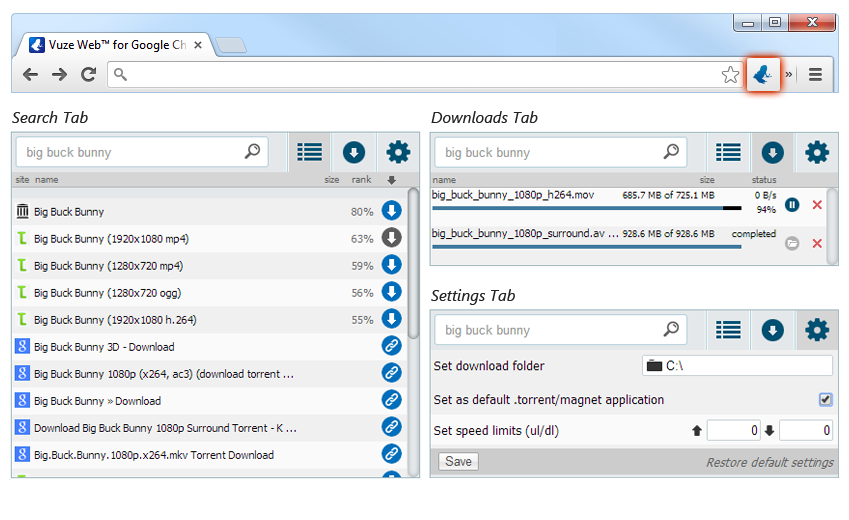 Get the Vuze Web extension today and experience content and media in a whole new way. Effortless, automated and convenient - it goes with you while you browse. Download it today.
For a complete step-by-step guide read the Vuze Web for Google Chrome guide.
Need help? Please visit our Vuze Web for Google Chrome forum. Have a suggestion? Please contact Vuze by visiting vote.vuze.com.
By downloading or using this extension, you agree to Vuze's Terms of Service and the Vuze Privacy Policy. Any use of Vuze Web™, Vuze® and Vuze+™ that violates the rights of any person or entity is not allowed. More
Google, Chrome, and Chrome Web Store are trademarks of Google, Inc.